Pearlhearts Sphynx Cattery breeds one of the rarest sphynx cats worldwide. Register for your very own sphynx kitten now. See your kitten's development as he/she becomes old enough to depart our state of the art facility and become a part of your family.
Our sphynx cattery is recognised by the Cat Franciers' Association and The International Cat Association.
Our breeding methodologies are of the highest standards. Pearlhearts Sphynx Cattery is devoted to providing the upmost best, healthy, happy, and loving kittens that you and your family may enjoy for decades. We speak from personal experience when we say that sphynx cats really are magical pets.
Learn more about our cattery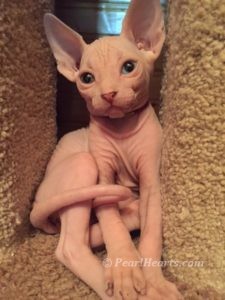 We find so much joy in finding our kittens homes. If you have any questions about sphynx kittens, we are happy to answer you.
If you would like to adopt a kitten from Pearlhearts Sphynx Cattery, you can contact us using one of the methods under the Contact page.
View available sphynx kittens for sale in Washington!
      Please read our Contract Policy if you are serious about adopting a sphynx kitten.